Germany does Italy and Austria, cool-climate, red-wine edition.
March 2019
Wine culture tends not to be uniform, homogenous, or propelled by easy logic, despite the messaging we are fed by all those interested in making things easy and, most importantly, easy to sell.*
Thus we have the fact that while Germany is so deeply associated with one grape (which I don't even have to mention, you already know exactly what I'm talking about), the truth is Germany is a diverse and glorious hodge-podge of wine cultures.
As but one example: an outpost of Schiava (Trollinger say the Germans), Zweigelt and Blaufränkisch (Lemberger they say) in the fascinating land of Swabia.
This is a game-changing time in Germany; a whole new generation of winemakers is returning to these forgotten places, these forgotten grapes. The older narrative is beginning, again.
Today we focus on only two growers: Beurer and Roterfaden (Roterfaden and the incredible town of Rosswag, photographed above). Yet the story of German wine in only a few years will be so radically different from what has been taught for the last 100 years. So get ready.
I'm going to get a bit geeky, a bit detailed and opinionated; this is going to cost more than 140 characters. So, for those who want the short story, all wines are listed below – so scroll down and shop!
First: Beurer's electric, levitating reds are back in stock, including the Trollinger and the red blend, poetically and lovingly called "Rot" (and soon, "Rot Gut"). We sort of thought these wines were in unending supply and verily plotted Q1 growth on the quadrupling of Trollinger sales. Turns out Beurer doesn't actually make much of these wines and they'll sell out well before we'd like. So, seriously, no bullshit, buy now.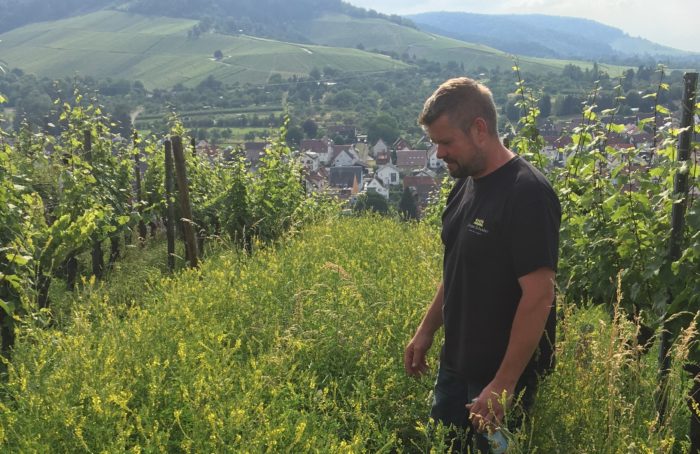 Beurer is also one of the few German estates to farm Zweigelt. In fact, his valley is one of the few valleys in Germany to have any Zweigelt whatsoever. Why this is, even Beurer can't tell me. What we can say is Beurer's Zweigelt is the most tense and delineated Zweigelt we've ever had; fresh, agile and loaded with that dark, brambly fruit and plenty of chalky minerality. This is a stunner.
Beurer is one of the pioneers of organic/bioD farming in Germany and there just aren't purer, more joyful, more buzzing-with-energy bottles of wine out there. And they CHEAP… I mean inexpensive.
And then, new to our book: Weingut Roterfaden. The truth is I had not tasted a Lemberger so transparent and energetic, so mineral and pure, since first tasting the Moric wines about a decade ago. This is the context these wines deserve. They are that good. Yet they are also quite different: They are more compact, higher-toned, more taut and nimble. They are the product of a much cooler climate; they show this finessed, nervy energy.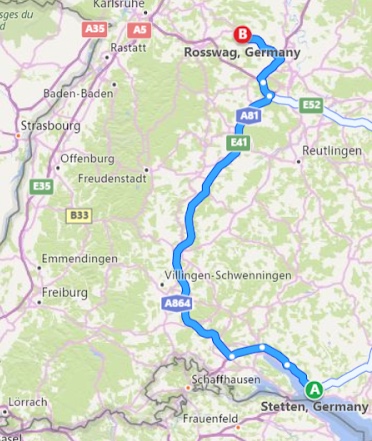 These are revelations in a bottle; you must try them.
Roterfaden is about about 100 miles north of Beurer, in the Swabian hinterlands of the far north. The little town is called Rosswag. Look through the history books and you'll see nothing about Rosswag; Hugh Johnson mentions it only as one of a handful of villages making cheapish, co-op wine. And the truth is, were it not for a changing climate and the heroic efforts of the husband-and-wife team of Roterfaden (Hannes and Olympia), this would still be the case. These two glorious humans are single-handedly trying to put a few hectares of old-vines back onto the map, one terrace at a time.
The village of Rosswag, it must be said, is an amazing place – a dramatic amphitheater of ancient, terraced vineyards surrounding the village, protecting it (see photograph above). Only a few dozen, half-timber homes sit at the foot of the terraces. For decades – centuries even – wine has been the lifeblood of this village, with almost everyone here making a living by growing grapes and selling to the local co-op.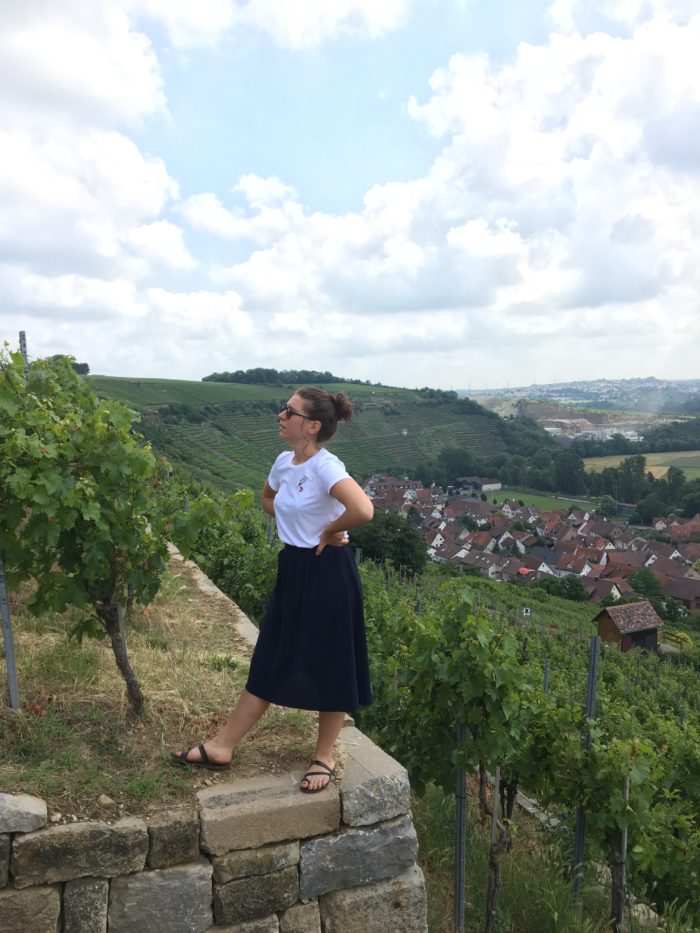 Today the story is different, but unfortunately it's not unfamiliar: these old terraces are steep, tiny and hard to work. They are being abandoned. Hannes (who was born in the town) and Olympia are trying to save this small town, with the goal of both preserving the local culture of winemaking and elevating the quality.
There are literally only two producers in this village: the co-op farming about 99% of the vineyards, and Hannes and Olympia, farming about 1%. That's it.
Hannes and Olympia work organically and biodynamically: they studied in fact with Beurer. Currently Hannes and Olympia are farming about two hectares, the great majority is Lemberger, though they do make a tiny amount of Pinot Noir and Riesling. The soils here are shell limestone and in the terraces everything must be done by hand. There are no machines, anywhere. In the cellar, the philosophy is minimalist as you'd imagine: natural fermentations, long lees contact, no fining or filtering and only minimal use of sulfur, and only at bottling.
Celebrate the diverse Germany beyond Riesling; celebrate the small growers telling the more complicated, more delicious stories.
All wines are in stock and ready for immediate enjoyment. Reply to this email – orders@vomboden.com to order!
Thank you, Stephen
2017 Beurer Trollinger (Schiava) – ~$21 retail
Beurer farms only a little bit of Trollinger; it is fresh and delicate of color, bright tart red fruit, incredible florality, great energy and minerality. Just a stupid price that would be inconceivable if this came from anywhere other than Germany.
2017 Beurer "Rot" – ~$21 retail
The "Rot" is gut (translation: good): a darker, earthier blend of Pinot Noir, Cabernet Dorio, Dornfelder and Portugieser, the latter two being among our favorite Teutonic red grapes, for their lightness and easy transparency.
2016 Beurer Zweigelt – ~$29 retail
The Zweigelt gets, all of a sudden, much more serious. The Zweigelt flaunts a thrust, a glossy precision that recalls Beurer's Rieslings. It has what we'd call elegance, though it remains stern and serious. An unbelievable wine, honestly – always sort of shocking.
2016 Roterfaden Lemberger – ~$35 retail
Lemberger (aka Blaufränkisch) that is brighter and more nimble than you ever thought it could be; intensely pure red fruit . You have to just try this.
2016 Roterfaden Lemberger "Endschliefe" – ~$56 retail
This is their Grand Cru, sourced from the oldest vines, the best grapes of the harvest. One old barrel made; deeper and more structured, more ageworthy. This is out-of-stock but we will be ordering more. VERY rare so if you want any, let us know.
* Ah yes, and the asterisk from above: It goes without saying that importers themselves are chief among those who like to simplify for the common good. I'm sure I'm guilty. Sorry.