Think of Ryan Stirm as the love child of Clemens Busch and Morgan Twain-Peterson.
Clemens Busch in so far as Ryan is committed to organic viticulture, natural ferments, old vines and, yes, he makes Rieslings that can go through full malo (as such, they do not need to be fined or filtered).
Morgan Twain-Peterson in that Ryan is a thirsty scholar combing the forgotten nooks and crannies of California history (both are old souls, even in youth).
Check out Ryan's website. Beyond the boiler plate "about us" verbiage there's a 518-word diatribe entitled "The Reason for Riesling" that zips through the history of Riesling in California wine history. I can't help but think Morgan would approve of such loving, passionate, bookish meanders.
Like both Clemens and Morgan, Ryan is as much a farmer (or more?) as he is a winemaker. While we recognize that this is not a prerequisite for making great wine; it's just cool as **** and something of a rarity in California these days.
And now dear reader, we've arrived at the perfect moment to sum up what Stirm Wine Co. is really about. Now is the time to drop that perfectly crafted one-liner, dripping with poignancy and just the right amount of salesmanship.
Yes, Ryan loves Riesling.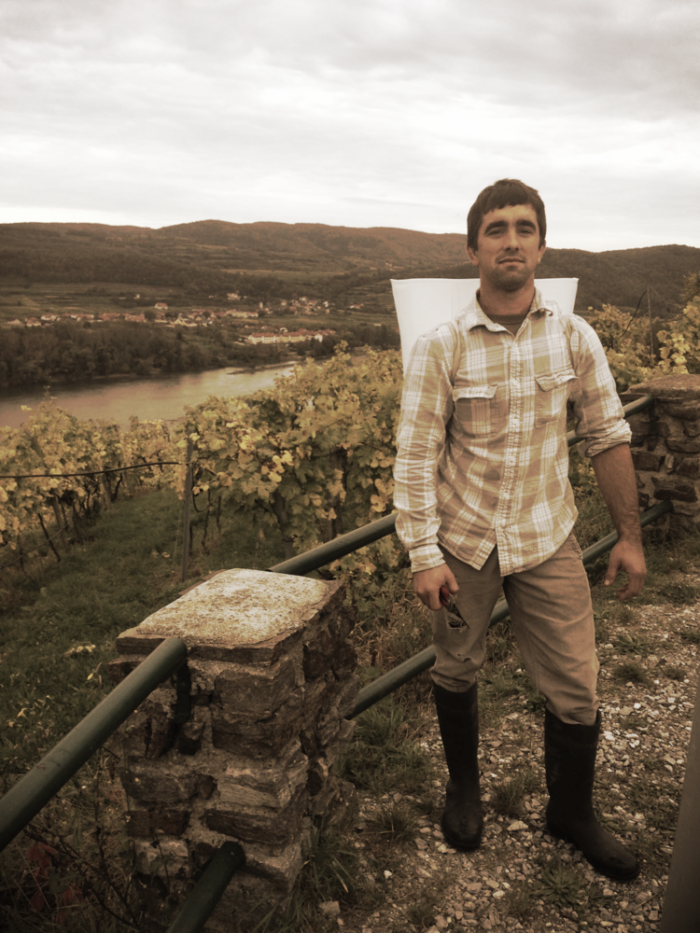 It's worth noting that we need Riesling like we need a hole in our head, and we really did everything possible to not take on any more Rieslings, including ones that so triumphantly proclaim texture, exotic fruit and yes, alcohol, as their rightful destiny.
Hopefully this says something about how damn compelling these wines are – how utterly unique they are.
But our sense is that we've arrived at maybe the second paragraph of chapter one of the Stirm-Wine-Co. story. Pinot Noir, Cabernet Pfeffer and a host of other varieties are likely to be important parts of this narrative. The book is thus far a page-turner, yes, but we're all still at the beginning.
Here's what we can say for sure: the vineyards Ryan is farming and working with are psycho. Stretched from Santa Cruz down to Santa Barbara, it's a veritable "who's who" of rock-star nobodies, eccentric old timers with wild complexity and hard-to-pinpoint soul.
Here are the vineyards in no particular order:
Rancho Arroyo Perdido, Santa Barbara: planted in 1972, this is actually one of the oldest vineyards in all of Santa Barbara (yeah, it's definitely a young region). No one was crazy enough to plant Grüner Veltliner back then, so these vines were actually grafted about 10 years ago onto the original '72 rootstock. So the roots go deep and the wines are crazy mineral as a result.
Kick-On Ranch, Santa Barbara: about ten miles inland from the Pacific. For Riesling dorks of a certain breed, Graham Tatomer has made this site sorta famous. Nutrient-deficient soils that we can call "eolian sand" if you want, matched to a relentless Pacific wind keep this site suffering and producing a wine of a very specific sort of austerity, given the sun-drenched generosity of California. Ryan is transitioning his small plot here to organic viticulture which takes time and a lot of hand-work.
Wirz vineyard, Cienega Valley, San Benito County: For those of you who don't know (I didn't), San Benito County is sorta equidistant between Santa Cruz (roughly an hour's drive south-east) and Monterey (roughly an hour's drive north-east). The site is own-rooted, dry-farmed, flaunting old vines planted in 1965 on the San Andreas fault which adds drama and fist-sized granite and limestone rocks. The vines offer about a ton an acre, which at most, ain't nothing.
Enz vineyard, San Benito County: Here we have a riddle of a vineyard that's its own damn AVA. About two miles south of Wirz, the site is farmed completely by Ryan and features plantings of Zinfandel and Cabernet Pfeffer from 1895, as well as a raucous group of strangers including Mission, Mataro (Mourvèdre), Alicante Bouschet, Orange Muscat, Palomino, Carignan and a few other vines "as yet to be identified." A parcel was planted in 1967 and grafted over to Pinot Noir about 20 years ago. As with Wirz, we're looking at weathered granite and limestone soils.