Are these the oldest vines in Germany?
The Luckerts work what has to be one of the oldest producing vineyards in all of Germany, a Silvaner vineyard called Creutz that was planted sometime in the 1870s.
Think about this: Someone was planting these vines at about the same time Alexander Graham Bell was working on a prototype of the telephone. Thomas Edison was working on the light bulb.
Old vines are soul, that's our position at least.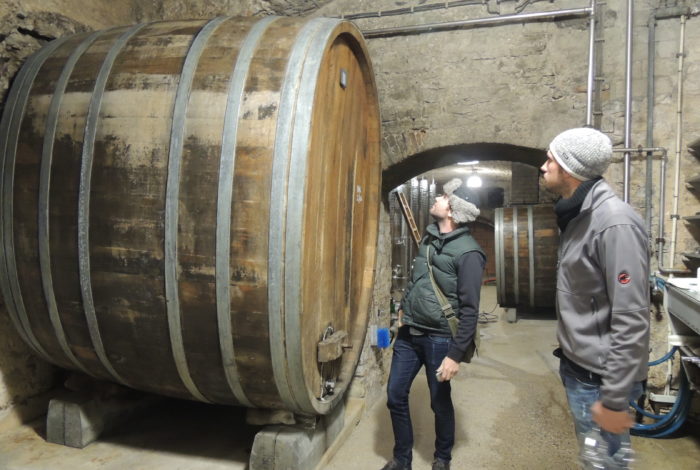 Creutz is only about 600 vines (obviously ungrafted) producing around 350 bottles a year. It is a small part of Luckert's holdings which are, in total, only 17 hectares. This is a family affair, run by brothers Ulrich and Wolfgang Luckert and son Philipp. But the very existence of this vineyard at Luckert captures something of the spirit here, something of the soul.
"Old school" doesn't quite capture it. The philosophy is more a thoughtful, calming patience; a lot about the estate and the wines remind me of Nikolaihof.
The Luckert boys have been farming organic for a long time (they have been certified since 2009). Every single wine is made exactly the same way: a slow, cool, natural fermentation and elevage in neutral wood. The cellar is a labyrinth filled with barrels, from petite 200 liter numbers up to an intimidating 5,000 liter giant. All the wines go through malolactic; they are bottled unfined. That's it.
All this might make one think the wines are gooey, cumbersome, low-acid affairs, which couldn't be further from the truth. They can be textural, yet there is always a lightness to them, like a blanket made out of multiple layers of satin. The wines can have cut, a surprising tension. They call the style "fränkisch trocken," which I'll go ahead and translate to really damn dry. The flavors are deep and detailed, yet fresh and cerebral – which is to say they are not necessarily about fruit. Mineral, dried herbs, savory notes.
Someone smarter than I once said that Silvaner is like Chardonnay without fruit. Luckert's Silvaners are like Chablis from another mother.
The oceans of early-harvested, commercially fermented, sterile-filtered Silvaner have largely destroyed the reputation of this grape, which is a damn shame, because Silvaner can be profound. I've seen glimpses of god in even the village-level Silvaner of Luckert.
While the Silvaners are king here, the Luckert boys make a smokin' Sauvignon Blanc (says someone who for the most part detests Sauvignon Blanc) and a Gelber Muskateller that is mineral and linear.